The year has just started and it's just the right time to think of how you can make a 'Smart Start' to it. Granted this can be accomplished in many ways. Allow us to introduce one way to you: consider having a smart irrigation or in-ground sprinkler system installed on your residential or commercial property.
Benefits of Smart Irrigation and Sprinkler Systems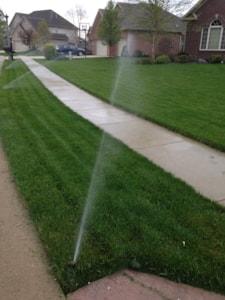 Imagine being somewhere far away and still being able to operate your sprinkler system from a smart device like your cell phone. Well, it is actually quite easy to accomplish. You can do just that by 1) installing a Smart Timer on your existing irrigation system or 2) installing a new, smart sprinkler system on your property. On an existing system, we can pull out the old digital component and install a new one in its place, connecting it to your network and installing the application to your phone. We then connect and set it up. It's so easy, that you could even do it all by yourself.
If you are considering a new irrigation system for your property, we can install a "Smart" system as part of the overall installation process.
A smart irrigation system will make your life even easier; now you won't have to stand in front of the timer to program it, as it can be done right from your smartphone. Bring convenience, portability, and fun right in the palm of your hand, with a new smart sprinkler for your yard. Now that's a 'Smart Start' for 2022.
Contact the Peter's Group today to learn more.