Irrigation Systems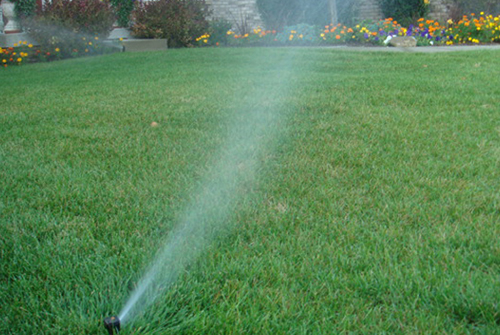 Irrigation (Sprinkler) Systems are great tools for helping keep the lawn at its peak condition. Gone are the days of brown dry unsightly grass. Gone are the days of lugging a hose and sprinkler all over the yard to keep your grass watered. Today it can be done with a programmable controller that you can set and forget. The Irrigation system simplifies your life and provides you with an easy solution to possess a beautifully lush green lawn with little effort on your part.
See Our Pricing See An Installation Video
Irrigation & sprinkler System Benefits
Why should you have an Irrigation system in your yard?
Saves water versus using a hose and ordinary sprinkler system.
No more dragging a hose across your lawn.
Rain Sensor senses the moisture in the air to stop unneeded watering.
Drip lines available for over your garden beds.
Fertilize your lawn better through the Irrigation System.
Time Saver – It's on a programmable controller so set it and forget it.
Money Saver – Your water bill will be lower than if you were watering by hand.
You can enjoy a lush green lawn without much effort.
You will be the envy of all your neighbors with the effortless beautiful lawn you have.
Reasons why The Peters Group should be your Irrigation Contractor:
1st year free service on irrigation system
3 year warranty on all valves
5 year warranty on all heads
Great Maintenance package options
Awesome Discount Bundle Deals
Competitive Pricing
We use a technique call "invisible installation" where the Irrigation is installed without any visible damage to your lawn.
Only takes us 1-3 days to install depending on the size of system (excluding commercial systems)
Friendly and Professional Staff.
Our commitment to Customer Service.
More reasons to choose us for your installation.
Call us or email us today to get your free estimate on installing your irrigation system.
Sprinkler Maintenance
Upkeep on your sprinkler system is very important to keep it running at its peak condition. There are a few simple steps you can take to ensure you system is working properly. Every year there are 3 maintenance items your irrigation system should go through. The Peters Group can help you with these items:
Spring Start Up
Check your system for any leaks
Adjusting your head for proper coverage
Program your controller for desired watering times
Backflow Test
​Perform city required Backflow Test
​Send results to city
Leave a copy with homeowner
File a copy in the office
Tag the Backflow Preventor with Results
Winterization
Prepare system for winter
Clear pipes of water to prevent freezing
The Peters Group is able to complete the maintenance task on any irrigation systems - even ones we did not install.
Service & Repair
From time to time like everything else your irrigation system may need some repairs. The Peters Group can help. Our trained professionals pinpoint the issue and correct it. We will work with the homeowner until they are satisfied with the results. It does not matter if we installed the system or not we can fix it for you.
* There is a service call fee of $75 that will be waived for any repair over $500. If your system is still in the first year, no service call fee will be assessed.
Types of Irrigation Systems
There are a variety of irrigation systems available to you to use. At The Peters Group we proudly install the following quality sprinker system products.
Rainbird Sprinkler Systems
Hunter Irrigation
Torro Irrigation
For information on specific projects around Indianapolis, visit our Irrigation & Sprinkler System Project Gallery.
Permits
Permits are required by the following cities: Carmel, Noblesville, Lawrence, McCordsville & Westfield to install irrigation systems. Pricing can be found on the Irrigation pricing page for each of the cities.