Water Features and Ponds
Nothing is as calming as relaxing in the vicinity of a feature that has running water, the falling of the water puddling and pooling. It brings in nature in all its natural beauty which can be enhanced by planting water plants such as grasses, shrubs, lilies and creating other water elements which will only help visually. Low voltage lighting can also be installed inside and outside the water inside rocks of behind a waterfall. A lot can be done to take your creativity to the next level and all of it can give you the kind of results you are hoping for. Really it never stops as if you choose you can keep adding or improving elements to create the desired affects you want to bring out.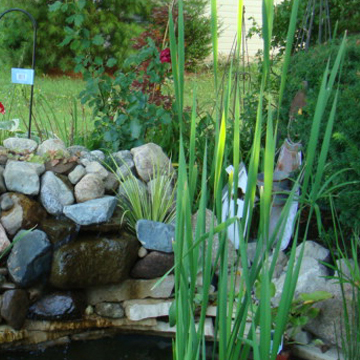 It can be installed on any area of your property such at front of yard to give the curbside appeal or wow effect or the back yard at any position to give you that cool relaxing experience. It can have hanging lights over it also. You can have still life marine objects inside of it or live creatures such as fish etc. At the end of it all you want to have an experience that comes as close to nature. Lastly this experience can be brought inside of the building of both a commercial and residential space.
Types of Water Features and Ponds
Fish pond
Formal pool
Garden pond
Koi pond
Lake
Lotus pool
Naturalistic pond
Plunge pool
Japanese Garden with waterfall and pool
Water Feature Services
Water feature design
Water feature installation
Available throughout Central Indiana, including Indianapolis, Carmel, Westfield, Fishers, Zionsville, Noblesville, Lawrence, McCordsville, Avon, Whitestown, and surrounding areas
You will enjoy a well-designed and built water feature. Let us help you design your dreams!